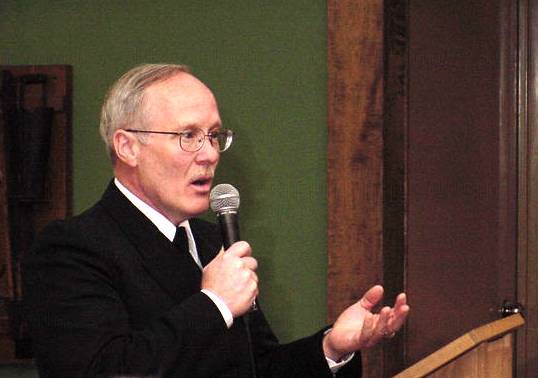 Cliff Moser USN was 2003's featured speaker at the Museum of the Soldier's annual banquet. Chief Moser was aboard the USS Cole on October 12, 2000 when she was attacked by two terrorists in a small boat posing as fueling contractors. The bomb detonated on the port side of the Cole leaving a 40 foot hole and devastation beyond belief.

The USS Cole (DDG-67) is a guided missile destroyer of the Arleigh Burke Class. She is named for Darrell S. Cole a Marine Corps sergeant who died on Iwo Jima after single-handedly destroying two machine gun emplacements. Sgt Cole was awarded our nations highest honor the "Medal of Honor" following his death. Chief Moser's remembrances of this terrible attack which left 17 dead and 42 wounded was mixed with sorrow for those who could not be saved and pride for the efforts of every sailor who worked valiantly to save their shipmates and ship which was sinking from the 20x40 foot hole in her side at the waterline.

The efforts to keep the ship afloat were finally rewarded, and today after being refitted and repaired she is once again afloat as part of our Navy's surface fleet. Chief Moser brought with him a small metal hull piece from the USS Cole which he keeps on his desk at his present duty station to remind him of the sacrifice of his fellow shipmates. Chief Moser is credited with saving many lives and performing his duties in an exemplary manner.

The Museum of the Soldier is honored to have on display the uniform that Chief Moser wore on that fateful day as well as other artifacts from the USS Cole. As an additional Historical Gift to the Museum, Chief Moser presented the ships Coat of Arms represented in its "Shield". It's Motto Gloria Merces Virtutis " GLORY IS THE REWARD OF VALOR" underscores the unwavering loyalty and bravery exhibited by the sailors of the USS Cole.